The Jahn family lived in Meuselbach, a little village near the city of Rudolstadt, in Thuringia (the dark orange state in the center of the map). After Word War II, Thuringia was under communist control, and it was nearly impossible to obtain any genealogical information.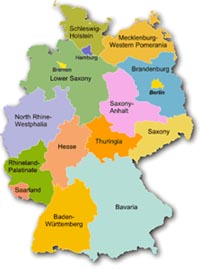 Now that the political climate in Germany has changed, we hope to find more about the Jahns who remained there and other relatives who may have come to America. Meanwhile, the information we have comes from a letter written in German to Lonie (Jahn) Hansen by Kurt Jahn, a cousin in Germany. He says:
Our grandfather was Karl Jahn, born February 24, 1834, in Meuselbach, where he also died on November 29, 1887, of a throat infection. Like his father, he was a teamster. These were people who owned horses and wagons and hauled merchandise. The teamsters were quite uniformly clothed: sturdy shoes, sturdy white knee-length woolen socks, leather trousers, and blue linen shirts. The Thuringia forest was very poor and had to import most of its living necessities from far away. So Grandfather drove with his equipment to nearby cities like Erfurth and others as far away as Bremen. He was away from home for weeks at a time, and Grandmother had to manage the large family alone.

Grandmother's name was Friederike Natalie Rosalie Ehle. (She was called 'Rosalie.') She was born on May 28, 1836, in Meuselbach, and also died there on June 7, 1912. I knew her and remember her well. She was a small, very quiet and very hard-working woman, dressed in a wide black skirt and a simple black jacket. She spoke very, very seldom. On her head she wore a black kerchief, which she removed only when she went to bed. As children, we always enjoyed seeing her beautiful red cheeks. After the death of her husband, she surely did not have an easy time bringing up all the children. She died of gallstones.

Our grandparents were married January 25, 1858. They had ten children, three boys and seven girls. The boys were: your father, Edmund; my father, Oskar; and the youngest brother, Emil. The girls were: Natalie, Ottilie, Emma, Anna, Laura, Kathinka, and Lydia. Except for Edmund, Natalie, Ottilie, and Laura, all lived in Meuselbach. Many of the descendants of the sisters were killed in the world wars.

At the time of the Nazis, all civil servants had to prove that none of their ancestors were Jews, or they would be dismissed from office. At that time, I had to identify all of my ancestors back to the year 1800. If it should interest you, I will add the names, etc.

Our grandfather Karl's father was a teamster, Johann Georg Jahn, born January 21, 1804, in Meuselbach. He died there on April 22, 1874, from apoplexy.

His mother was Anna Barbara Moeller, born March 13, 1803, in Schwarzmuehle; she died in Meuselbach on May 2, 1874, of a stroke. They were married June 19, 1828.

Our grandmother Rosalie's father was a merchant and medicine dealer, Johann Georg Ehle, born July 17, 1808, in Meuselbach. He died January 19, 1867, of pneumonia.

Her mother was Christiane Emilie Minner, born February 24, 1801, in Koenigsee. She died January 3, 1841, of a liver disease. They were married January 23, 1831.

I did not go back farther than this; I was not required to, according to the law.

The medicine dealers were interesting people at that time. They collected a variety of medicinal herbs, or had others collect them, and brewed a variety of tinctures which had healing powers. These tinctures were bottled, packed in wooden racks, carried on the back through the countryside, and sold. Many of these medicine dealers went as far as Switzerland. Most of them earned a very good living. Besides the tinctures, they also produced plasters and ointments. In my youth, there were still a few "balsam carriers," as they were called then. After the first World War they disappeared. Today there are still three operations in Meuselbach which make these products; one has grown into a large factory.